Dubai Gold Prices drop to 6-month low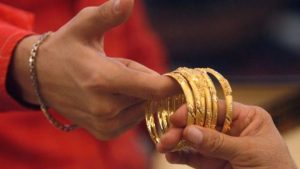 Gold prices posted a six-month low on Thursday, pressed down further by a firm dollar and as the US Federal Reserve Chair confirmed an outlook for higher interest rates in the United States.
24k gold is priced at Dh153.25 in Dubai and 22k gold can be bought at Dh144.
Spot gold fell 0.2 per cent to $1,265.72 an ounce by 0343 GMT. It hit its lowest since Dec. 21 at $1,264.21 earlier, having lost nearly 2.8 per cent over the last five sessions.
The dollar held near an 11-month high against a basket of currencies on Thursday, supported by a rise in US yields, while the pound struggled at its lowest level since November 2017 ahead of Bank of England's monetary policy decision.
A stronger greenback makes dollar-denominated gold more expensive for holders of other currencies.
Meanwhile, a developing trade war between the United States and China is weighing on business confidence and could force central banks to downgrade their outlooks, some of the world's
Most powerful monetary policymakers said on Wednesday at a meeting in Portugal of central bank heads.
Gold prices, which can benefit in times of uncertainty, failed to gain so far this week, despite the ongoing trade war.