India's fitness challenge to get Dubai twist on Yoga Day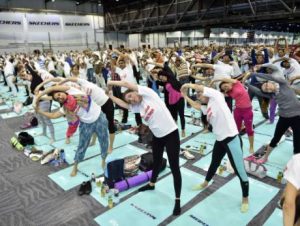 Thousands to participate in activities across UAE to mark 4th International Yoga Day
India's latest fitness challenge craze on social media will see its real-life version during the 4th International Yoga Day celebrations being organised by the Indian Consulate in Dubai at Zabeel Park on Thursday.
The #HumFitTohIndiaFit [If we are fit, India will be fit] challenge was launched by India's sports minister, Rajyavardhan Rathore, on May 22.
His call to netizens to post pictures and videos of how they keep themselves fit and challenge their friends to do the same on social media received an immense response with celebrities and Indian Prime Minister Narendra Modi accepting the challenge.
At the Dubai event, participants will get a chance to replicate the fitness poses posted by celebrities and win prizes.
The event includes onstage yoga, yoga posture and fitness competitions and sessions by various yoga schools, the consulate said.
Saudi Arabia's first certified yoga instructor, Nouf Marwaai, who was honoured with Padma Shri, one of the highest civilian awards of India, will lead yoga enthusiasts in performing common yoga protocol.
Rajesh Jagasia, a software engineer-turned-international instructor of Art of Living, will lead a session in pranayama.
The entry will be free to the park through Gate 3 for the event that begins at 6pm.