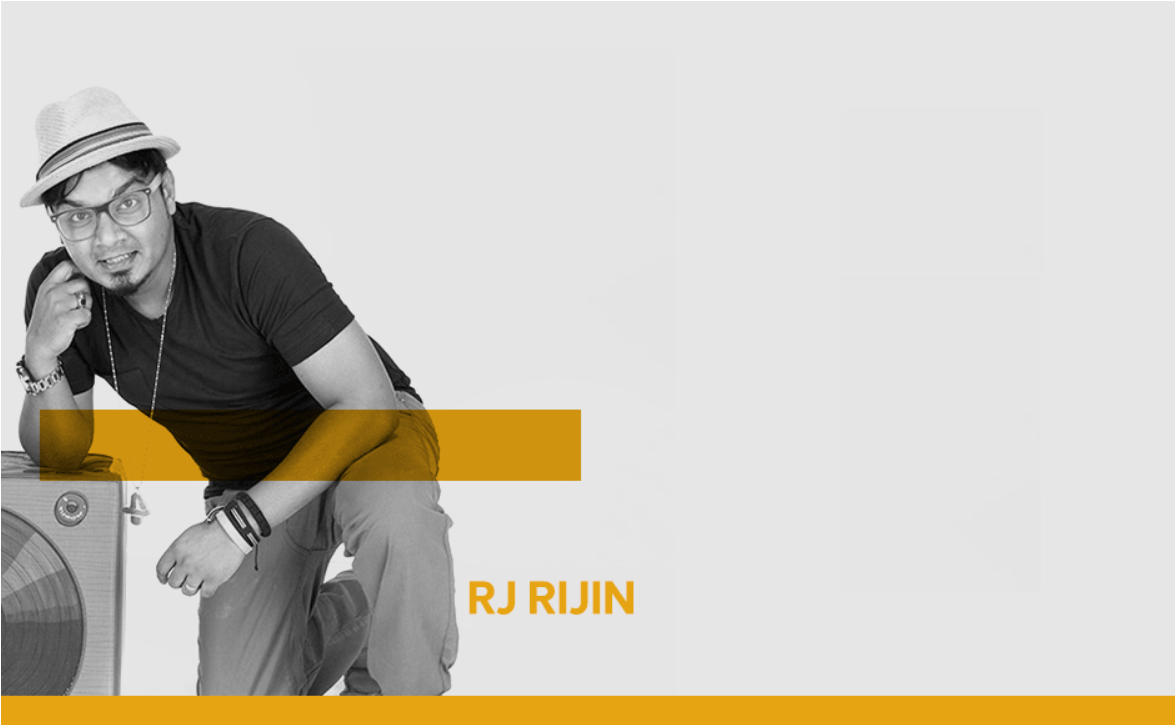 RJ Rijin

He is [ O-R I J I N-AL ]
A perfect combination of total madness sprinkled with funky facts.
RIJIN 's sweet, romantic with a husky voice and little bit of sarcasm.
He loves his iPhone, cars like Ferrari jacket and any gadget that is electronic and has the ability to surf and download.
He composes his own music, sings and even writes. He loves his listeners, he loves speed (but afraid of fines), loves water (though he can't swim); he is a pet lover & loves his dog Tiger boy. Beware of this charmer, Every Evening.
RJ in  3 words - Positive. Intelligent. Funny
RJ's Role - Works as a Radio Host for the Evening Drive 7:00 Pm – 10:00 Pm (Home Run), He is Born & Brought Up in Bangalore but loves Gods Own Country Kerala.
What he brings - A bag of Positivity, lots of fun and unlimited energy 24/7.
Shows - Home Run and Gold Weekend
Timings - 4 PM to 7 PM, Sunday to Thursday and  7:00 AM - 10:00 AM Saturday
Zodiac - Libra
Personality - Energetic, Cool and Positive
My RJ styling - You're Next Door Neighbour, with absolutely No Attitude. I must be the only RJ in the world to have an "RJ" in my Name when I was born-[ R I J I N ].
I like the smell of - Rain & Chicken Curry
Stress Buster - Long Drives. Racing. Mountain Trekking. Water Sports. Adventure
Music for me is - When I'm happy, I enjoy the Music. But when I'm sad I understand the lyrics. Music is not what I do, Music is what I Am. Music is my Religion and I'm the DJ.
My Favorite movies - Bangalore Days, Enemy of the State, BadBoys, Fast Five, Rush Hour, Thattathin Maraythu, Transporter, Karate Kid
My Favorite actors - Jason Statham, Will Smith, George Clooney, Vin Diesel, Amir Khan, SRK, Mohanlal, Dulquer Salmaan, Nivin Pauly, Rajnikanth, Surya, Ajith, Vijay.
My biggest sin - I don't actually sin, I think that should be the biggest sin.
Getaway - Long Drive's