UAE to setup an emergency committee to provide aid to Kerala!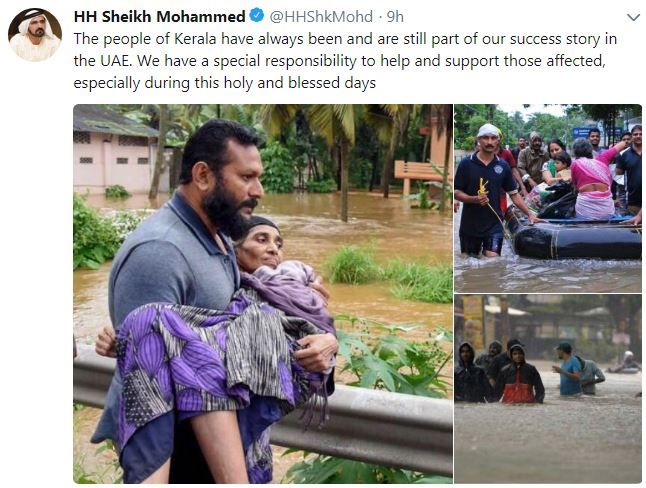 The UAE has a "special responsibility to help and support those affected".
Kerala, which is the state of India, is facing flood calamities. As the UAE has formed a national emergency committee to provide relief assistance to the flood victims.
The south Indian state is been hitting with such worst floods in over a century. As per the report, 375 people have lost their life and more than 200,000 families have been taken to refugee camps which have set up across the state.
The UAE's leaders announced that the committee would be chaired by Emirates Red Crescent, and would include representatives from the UAE's humanitarian organizations, WAM reported. The committee would also seek help from leaders of the Indian resident community.
On Twitter, His Highness Sheikh Mohammed Bin Rashid Al Maktoum, vice president of the UAE and ruler of Dubai, wrote about the initiative and urged the people to contribute.
The message was tweeted in Malayalam, Arabic, and English
Narendra Modi, (Prime Minister) thanked the Dubai ruler on Twitter.
Let's Pray together for Kerala and donate to the Kerala flood relief fund.
A big thanks to @hhshkmohd for his gracious offer to support people of Kerala during this difficult time. His concern reflects the special ties between governments and people of India and UAE.

— Narendra Modi (@narendramodi) August 18, 2018